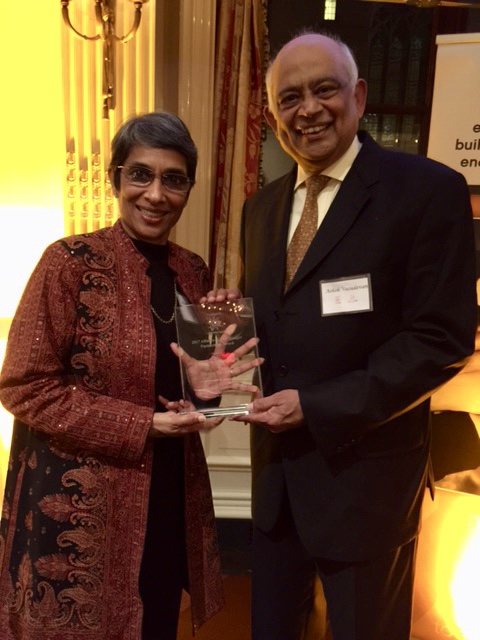 We are both honored and humbled to be the recipients of the 2017 Alliance to End Hunger Partnership Award presented to us by Bread for the World and The Alliance to End Hunger at their annual Gala to End Hunger in New York City.
By our efforts at Preferred Brands International and more recently the Meera and Ashok Vasudevan Foundation, we remain committed to the idea of permanently moving people out of hunger and malnourishment in a manner that is sustainable, self-reliant, and healthy.  Until then, we are saving the big celebration for the day when the last food pantry in America closes – for lack of business!
The Event
The 2017 Gala to End Hunger
November 28th, 2017
The University Club – NYC
The night featured keynote address speaker David M. Beasley, Executive Director of the United Nations World Food Programme,  guest speaker Kelvin Beachum, Jr. the offensive tackle of the New York Jets, and Bread for the World Ambassador, and remarks by Rev. David Beckmann President, Bread for the World and 2010 World Food Prize Laureate.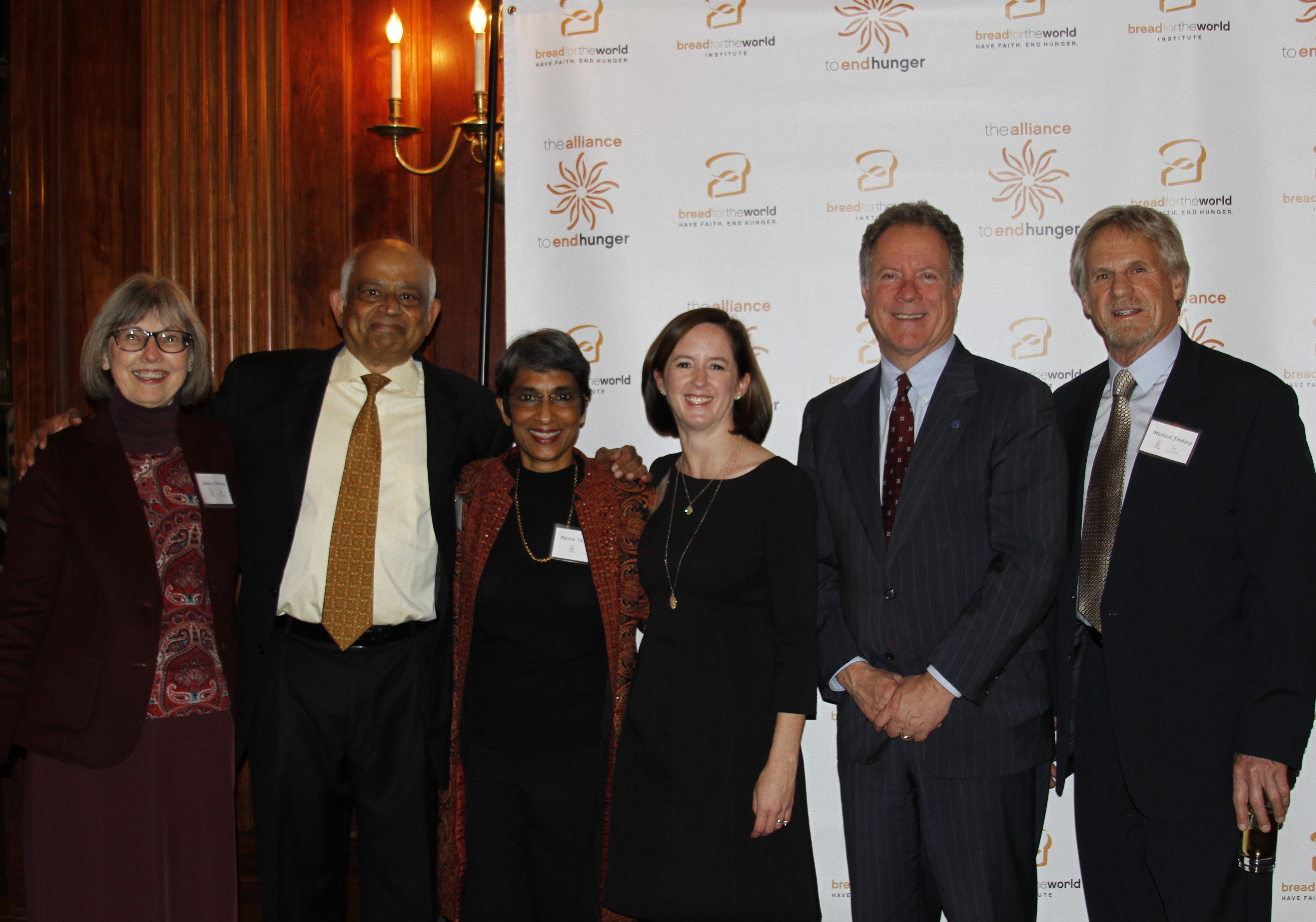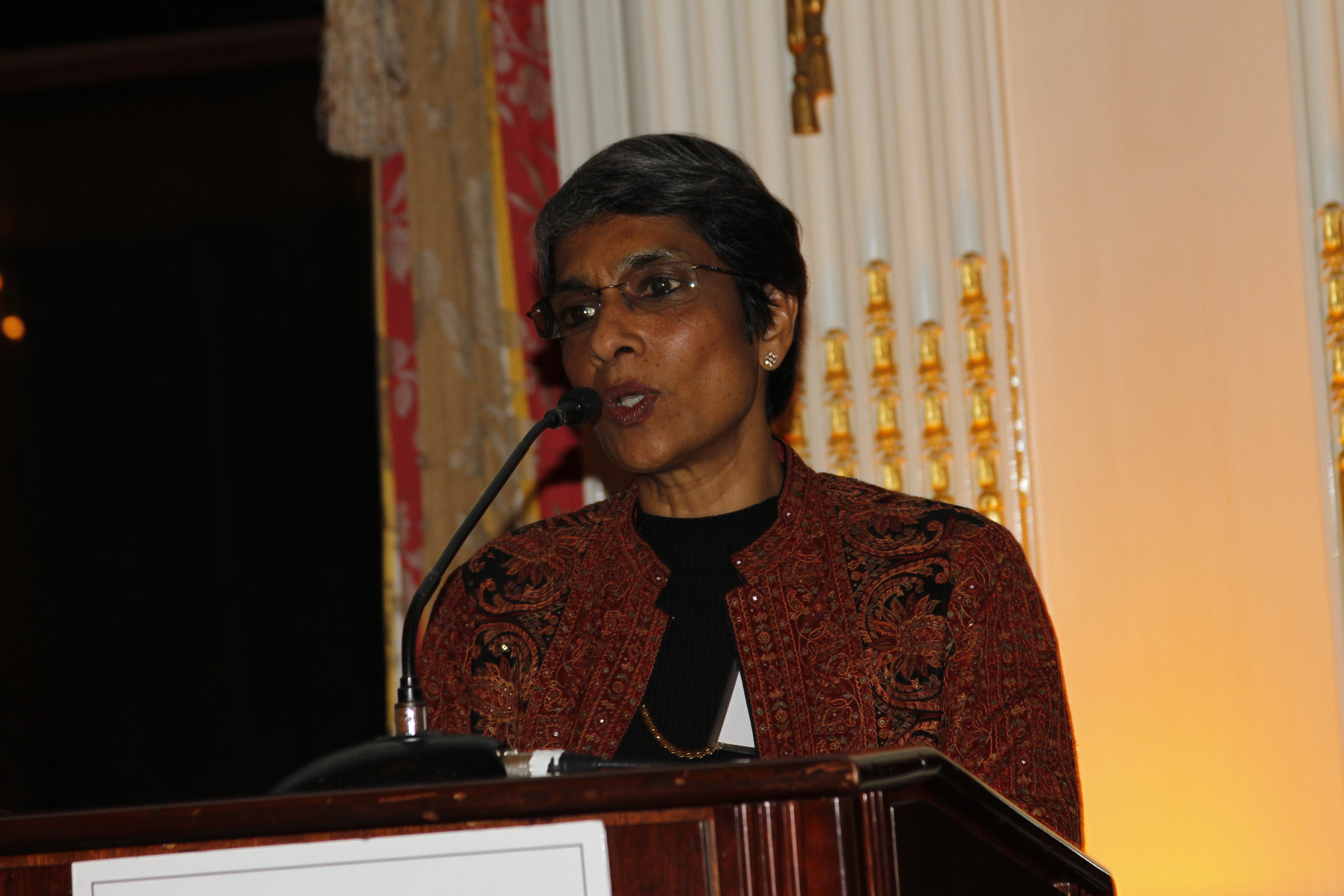 "My dream is to see a hunger free America because I refuse to accept that 1 in every 5 children misses dinner.

This is the wealthiest nation on earth, and yet every 7th American is hungry. This doesn't make sense."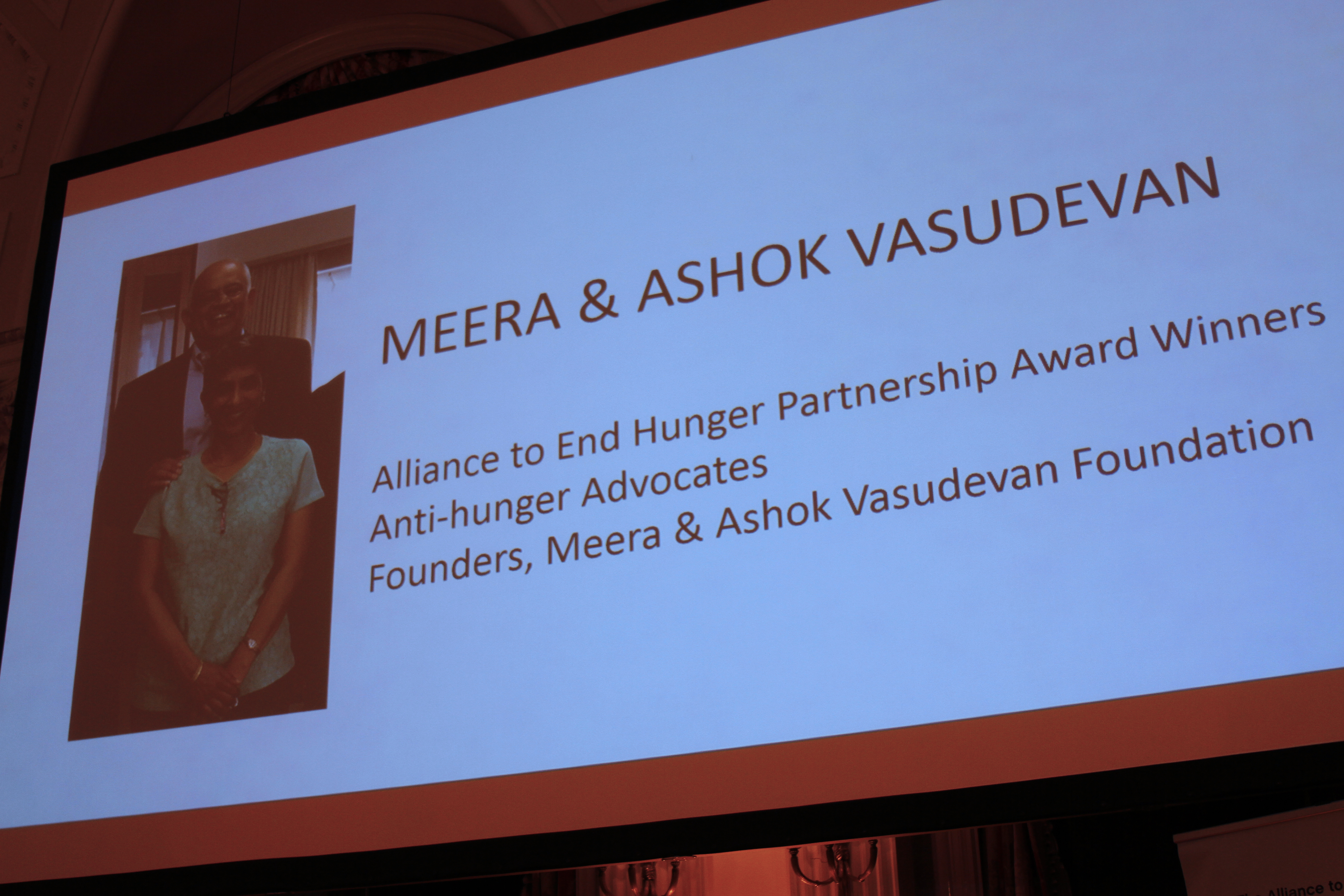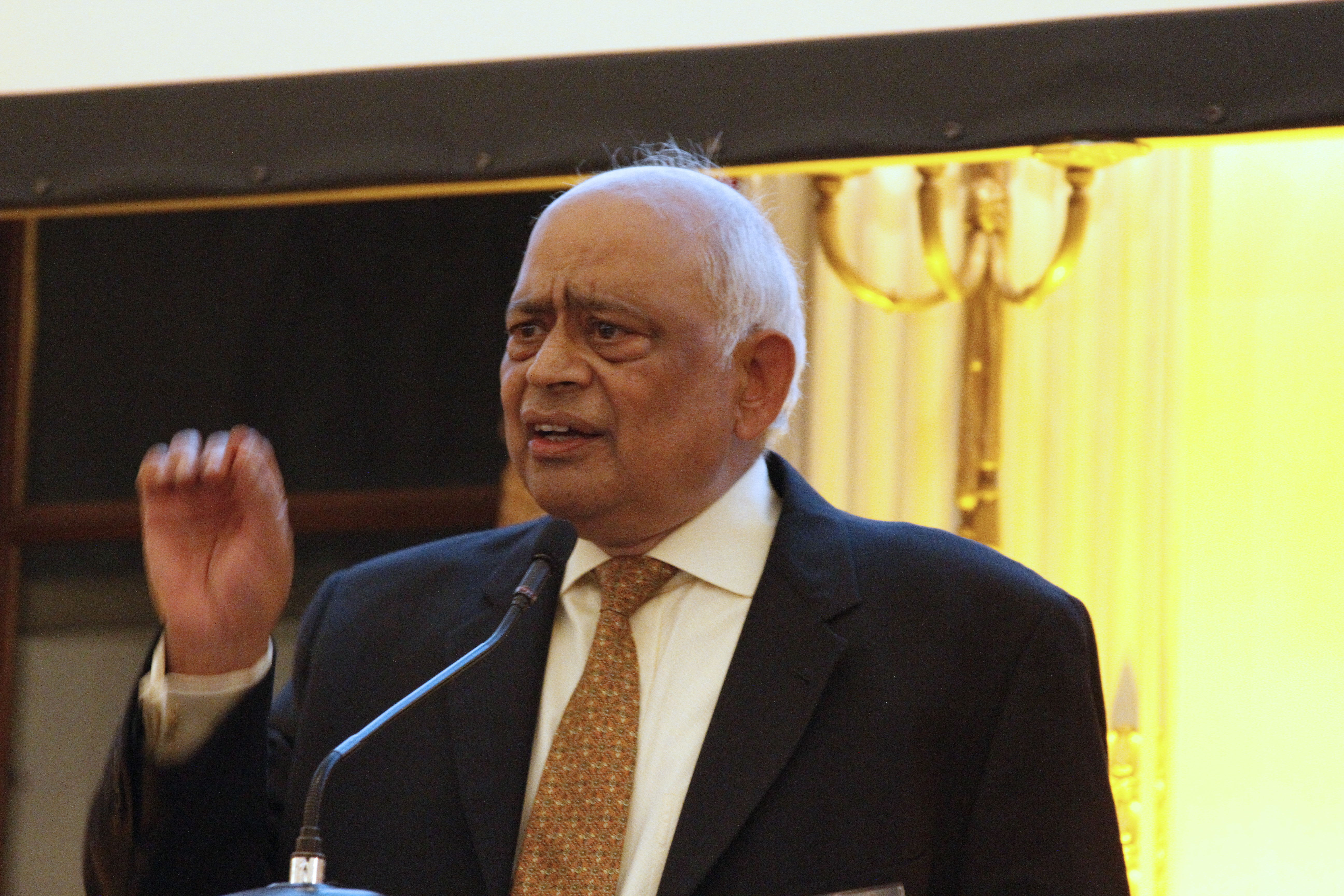 "40 years ago our population was 220 million. 17 million were on Food Stamps. Today the population is 325 Million up 50% from 1977 but the SNAP participants are 45 million up 160%. Very simply: the hungry have grown 3 times faster than our population. Why?"
Gala Speech Transcripts
Meera Vasudevan's Speech to the Gala:
Thank you very much!
Thank you Rebecca, David, the teams at Bread and Alliance for this incredible honor. We are truly humbled and grateful.
When Ashok and I set up our foundation, we were distressed by the statistics on hunger in America. But as we've gone deeper into the issue, we're convinced this can be beat.
My dream is to see a hunger free America; I refuse to accept that 1 in every 5 kids misses dinner. This is the wealthiest nation on earth, and yet every 7th American is hungry. Doesn't make sense.
All our combined efforts in this fight have made a big difference so far, and our ongoing efforts will continue to do so. I've no doubt about that. However, it looks like we're not just fighting hunger, but also shadow boxing with our own government. Right here, right now, at home, we are under siege. It seems to me that Washington is in denial or worse, indifferent to the fact of hunger. And yet today we have 300 food banks servicing 60,000 food pantries across EVERY one of our 3000 counties. We have to shut this terrible infrastructure down!  
We probably need to begin by tackling the stultifying indifference. That is a huge first step to ending hunger. I'd love to see mayors in every town have a ribbon cutting ceremony whenever a pantry is closed. I'd love to see 800 Million Likes on Facebook when this happens. After all, that's the number of Americans clicking Like on Facebook daily.
So, maybe it's time for all of us to collaborate with the Alliance and Bread teams and conceive audacious and revolutionary ways to end the indifference. As the poet Robert Browning said: "A man's reach must exceed his grasp, or what's a Heaven for?
---
Ashok Vasudevan's Speech to the Gala:
Good evening ladies & gentlemen,
Thank you for honoring both our company and our Foundation. Rebecca, David –and Max Finberg who is not here but is the responsible for introducing us – all of you mean a lot to us. More importantly, your work mean a whole lot to the 50 million Americans who are food insecure today and to whom we dedicate this and every evening till the "hungry American" is truly an oxymoron.
When is the last time we heard a Presidential debate address the issue of hunger? By the way, we don't call them hungry in America. We call them food insecure. And we don't say Food stamps. We call it SNAP. I'll be using these terms interchangeably.
In 40 years our population has grown 50% from 220 million to 325 today, but SNAP participation has grown from 17 million to 45 million. Very simply: the hungry have grown 3 times faster than our population. Why? I'm reminded of the Most Reverend Hélder Câmara the Brazilian Roman Catholic Archbishop who famously remarked  "When I give food to the poor, they call me a saint. When I ask why they are poor, they call me a communist."
Meera mentioned hunger in all counties in the US. Let me go more granular. There are 43,000 zip codes in the US. From just a few hundred food programs in the '80s, there are more than 60,000 food pantries today. That's more than 1 pantry per zip code.
Its true we have made tremendous progress. But it by increasing the supply side, more soup kitchens, pantries, food banks and food stamps. Not by reducing demand. The Government, the corporate sector and the Food Industry can each help solve this problem. Instead, each has hunger on their hands. Examples abound. I'll just take one of each.
The US spent $7.2 trillion on the military in just the first decade of this century. Yet a staggering 620,000 military families on active duty are on food stamps. 

That's 1 in 4 military families. 

And now we are hearing about a White House plan to cut $200 Billion dollars to the SNAP program.
Let's talk about the corporate sector. For those of us who believe money follows the laws of gravity and trickles down – here is an idle computation I did a couple of years ago:
In 1990 US corporate profit after tax was $1 trillion. 25 years later it exceeded $7 trillion. Of course in such a wealthy society there should be no hunger if monetary policy was Newtonian! However, the SNAP roster grew 13 million in the same period.
Let me come closer home to the food industry. Big Food is the single largest beneficiary of the $11 Billion subsidy on Corn and Soybean. This makes empty calories cheaper but nutrients more expensive. Vegetable prices rose 25%-40% since the '80s while sodas and processed foods dropped 10-30%, exacerbating the problem of affordability and obesity. More than 50% of the workers in the US fast food industry are on food stamps!
World food production is 1½ times consumption. The problem is not availability but distribution, access and affordability. It can largely be solved in many countries including the US with government resolve and policy, capped by the stroke of the all too familiar photo op Presidential pen in the White House.
Berthold Brecht in his poem "dark times" wrote:
"However, they won't say the times were dark
But, why were the poets silent?
So ladies and gentlemen, lets end this national silence, denial and indifference and ensure there's Bread For The World and join hands in an Alliance To End Hunger.
Alone we cannot. Together, we can. Thank you.