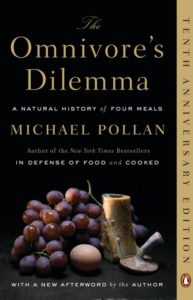 In his 10th Anniversary edition of "The Omnivore's Dilemma," Michael Pollan reports that over the last decade, much about the American food system has changed for the better. Most importantly, a palpable cultural shift in our thinking about food.
The good news from the book:
"There are now more than 8,000 farmers markets in America, an increase of 180 percent since 2006. More than 4,000 school districts now have farm-to-school programs, a 430 percent increase since 2006, and the percentage of elementary school with gardens has doubled, to 26 percent. During that period, sales of soda have plummeted, falling 14 percent between 2004 and 2014.The food industry is rushing to reformulate hundreds of products to remove high fructose corn syrup and other processed-food ingredients that consumers have made clear they will no longer tolerate. Sales of organic food have more than doubled since 2006, from $16.7 billion in 2006 to more than $40 billion today."
But while those are signs of progress for the 600+ billion dollar retail food industry, things will not change overnight.  Nor will the tastes of the average consumer.
"Yet the fate of this new economy is still up for grabs: It isn't certain that these new farmers will make it, or that our desire to eat from a shorter, simpler food chain won't somehow be co-opted by a food industry that now recognizes its consumers want something different — something more transparent about its origins and ethically defensible in its practices. Big Food is snapping up artisanal companies that positioned themselves as ethical alternatives. At the same time, the practice of "farm-washing," in which highly industrialized food products are marketed as if they came from small farms, is popping up both in the supermarket and fast food outlet. These days Big Food is certainly talking a good game — promising to improve the welfare and diet of the animals, drop the antibiotics, simplify their products and support farmers and ranchers — but whether such promises will actually be kept is questionable. McDonald's recently won plaudits for a promise to stop buying chicken raised with antibiotics — until a reporter recalled that this was the very same promise the company had made, and failed to keep, a decade before. The reform of the food industry is important, but it's doubtful it will happen voluntarily."
Find The Omnivore's Dilemma 10th Anniversary Edition on Amazon