HEROES FOR HUNGER©
he·ro  hirō/ noun
a person who is admired or idealized for courage, outstanding achievements, or noble qualities
Now, more than ever, the need for heroes to fight against a hunger that affects over 50 million Americans, is great.  We at MAVF are dedicated to championing the causes and supporting the work of those who fight hunger on a daily basis.
Take a moment and scroll down to read about some real life heroes, learn how you can help end hunger, and finally, take us up on one of our challenges.  If we each pitch in, we can end hunger.  We can do this.  We can all be Heroes For Hunger.

---
Real Life Heroes:
When you look at our previous Heroes for Hunger, you'll find a diverse group of individuals each fighting hunger in his or her own way. From politicians to gardeners, to food bank directors to food rescue organizers, our heroes have all made tremendous contributions to feeding those struggling.  
Our newest hero, however, fights hunger on a different playing field.  It might be in the aftermath of a hurricane, a wildfire, or volcano, it could be in an area without water, electricity or passable roads.  These are the hotspots of hunger where José Andrés works best.
The two star Michelin chef, who's credited with bringing Tapas (small plate cuisine) to America, is now as well known for his humanitarian efforts as he is for his 32 restaurants.
---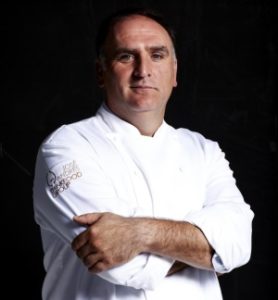 A story Andres has told many times takes place when he was about thirteen years old and living with his family in Spain.  It's about a defining moment in his cooking career but also about so much more.
My father would cook, and he would cook paella, the Spanish dish that is becoming world famous. And he would make big paellas for 50, 100 people at times. He would make it over open fire, and he would always put me in charge of helping him with the fire. But I wanted to cook, I wanted to stir the pot, I wanted to put the spoon in. And he never let me, he always said "You gather the wood; you make the fire."
The fire was a complicated thing. At times, you needed this low fire, at times a very heavy fire, and at times you had to make room underneath, then take all the charcoal away. And I was very young doing that, and I became very good at it.
But I still wanted to cook. One time we got into an argument, and he sent me off into the woods to cool down. Later, my father came for me and told me, "My son, I don't know if you realized, but you've been doing the most important thing, something nobody else could do like you. You want to learn to cook. I get it. But you need to control the fire. Learn to control the fire, and you'll be able to cook anything."
---
Now, Andres controls a hotly burning fire to ignite the passion of the army of volunteer chefs he enlists to help feed those impacted by natural disasters . As of this writing he is in Guatemala, feeding those displaced by the Fuego volcano eruption in early June. Prior to that he fed thousands in Puerto Rico after Hurricane Maria destroyed much of the island. In August of 2017, it was Houston, Texas and the flood victims of Hurricane Harvey. Before that, Haiti.
Locations change, but the steps in the recipe are the same. Arrive at destination, take stock of resources, start cooking, feed those who have nothing.
Biography
Named one of Time's "100 Most Influential People" in both 2012 and 2018 and awarded "Outstanding Chef" and "Humanitarian of the Year" by the James Beard Foundation, José Andrés is an internationally-recognized culinary innovator, author, educator, television personality, humanitarian, and chef/owner of ThinkFoodGroup.
A pioneer of Spanish tapas in the United States, he is also known for his groundbreaking avant-garde cuisine and his award-winning group of 29 restaurants plus a food truck located throughout the country, as well as in Mexico City and the Bahamas. José is the only chef globally that has both a two-star Michelin restaurant and four Bib Gourmands. His award winning restaurants include two Michelin-starred minibar by José Andrés, Jaleo, Zaytinya, J by José Andrés at W Mexico City, Bazaar Meat at SLS Las Vegas, the Bazaar by José Andrés at the SLS Hotel in Beverly Hills and South Beach, and Beefsteak, his vegetable-driven fast casual concept. Andrés is a committed advocate of food and hunger issues and is known for championing the role of chefs in the national debate on food policy.
In 2012, Andrés formed World Central Kitchen, a non-profit that provides smart solutions to hunger and poverty by using the power of food to empower communities and strengthen economies. Most notably, World Central Kitchen, along with #ChefsForPuertoRico, served over 3.5 million meals to the people of Puerto Rico following Hurricane Maria. Andrés' work has earned awards and distinctions including the 2017 Lifetime Achievement Award from International Association of Culinary Professionals and the 2015 National Humanities Medal, one of twelve distinguished recipients of the award from the National Endowment for the Humanities. Andrés was also named EY Master Entrepreneur of the Year in Greater Washington for his leadership and impact on the global business community and was also awarded the Congressional Hispanic Caucus Institute's Chair's Medallion Award.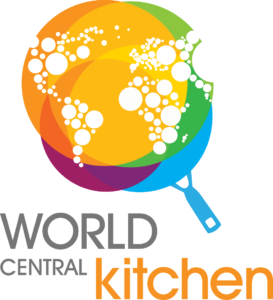 Founded by José Andrés following the earthquake in Haiti, World Central Kitchen (WCK) is a nonprofit of chefs creating smart solutions to hunger and poverty. With a global network of 200+ chefs and projects in eight countries around the world, WCK is active in the areas of health, education, jobs, social enterprise and disaster relief.
World Central Kitchen received international acclaim last year after serving over 3.6 million meals to citizens of Puerto Rico following Hurricane Maria. Under the banner of #ChefsForPuertoRico, Andrés led an army of over 20,000 chefs and volunteers preparing meals from 26 emergency kitchens, becoming the largest hot meal feeding operation on the island. For these efforts, World Central Kitchen was named one of Fast Company's Most Innovative Companies in Food for changing the way that food aid is distributed following a disaster.
Below is a great short video about José and the work done worldwide by WCK.
---
Who Needs Heroes?
The landscape of hunger in America has changed since the Great Recession.  Once confined to certain age groups or geographic areas, hunger can no longer be so simply profiled.  Every county in the US, from the poorest to the most affluent (including the one where you live), has a population that is food insecure – a population who needs a hero.
Blank
Households with children have a significantly higher food insecurity rate than households without.  In fact, 1 in 5 children in the US are food insecure. Children need nutrition to stay healthy, to grow and to learn.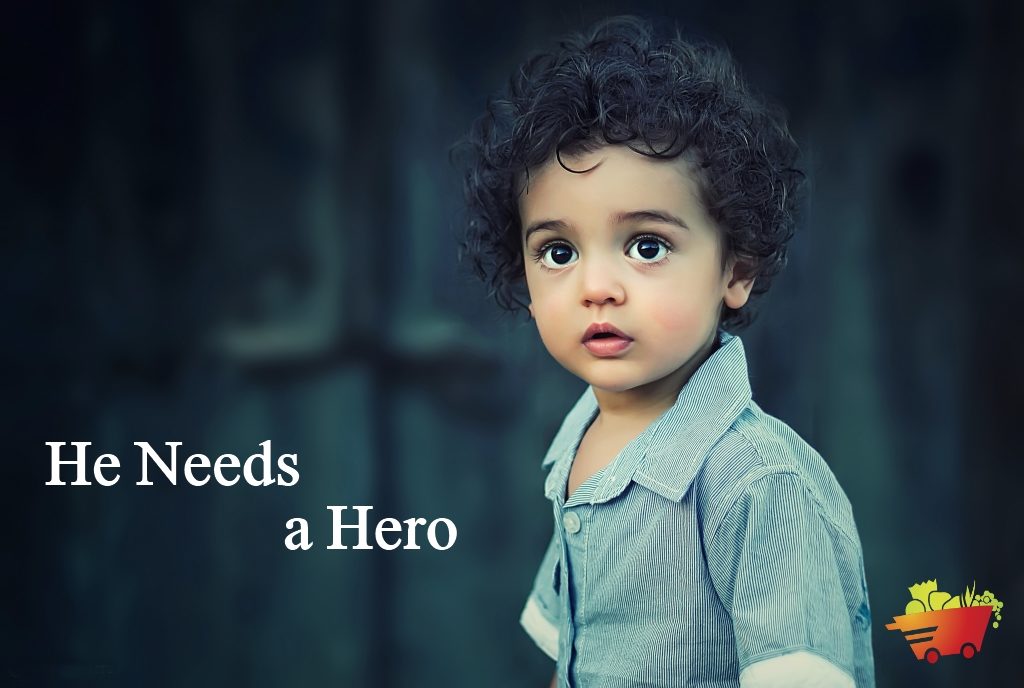 For many, the only meals they can count on are the free or reduced priced ones they serve at school.  But what happens over the weekends, the holidays, the summer…
She needs a hero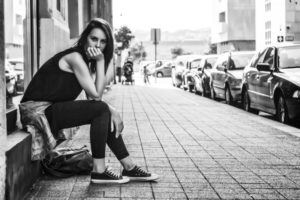 For those who received free and reduced lunches while in school, graduation day may be the end of food security.  Without a degree, many enter the workforce at minimum wage. Even working full time, there's not enough money to buy food.
He needs a Hero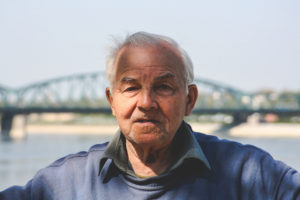 The American population is aging. 10,000 people in the US turn 65 each day with many of these seniors living on fixed incomes.  As housing, medical and prescription costs continue to rise, the money left over at the end of the month for food continues to shrink.
They Need a Hero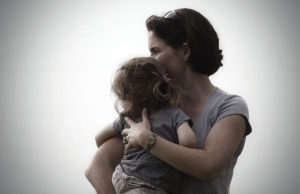 Raising a family is difficult. For a single parent with a single income the challenges multiply exponentially.  Day care costs alone can use up much of a lower wage income.  By month end, many parents turn to food pantries to help put food on the table.
What is Your Superpower?

I Can Donate Time

I Can Donate Food

I Can Donate Money
 Run Baby Run!
Participating in the Run Baby Run 5k will help support the mission of CCI Health & Wellness Services, raising funds to provide affordable prenatal care to those in Montgomery and Prince George's County MD who need it the most. CCI operates five WIC Centers where pregnant women, new mothers, infants and children under age five receive healthy foods and nutrition counseling.
Race is Saturday, August 18, with registration starting at 7:30 AM.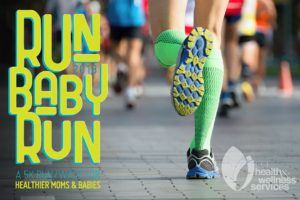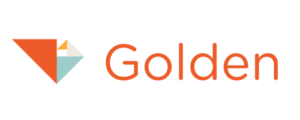 Volunteer
The holidays are a perfect time to volunteer with so many organizations looking for help with food drives, clothing drives and more.  Today's technology makes finding a great spot to volunteer easy.  Golden is a mobile app that matches volunteer's interests to nearby opportunities, giving verified information about the specifics of the project so there're no surprises for volunteer or charity. It's compatible with all social media platforms for one click group sharing with friends.  It also provides detailed scheduling and time tracking components to make managing large groups of volunteers simple and easy.
Cowabunga Portland!
The word Cowabunga is used to express delight and satisfaction. It's also the name of  Portland's three day festival of food. Starting July 13th, there are three days of tastings, demos, and competitions featuring all-star chefs, brewers, winemakers, distillers, farmers, and ranchers, making it a weekend like no other.
Cowabunga supports the Oregon Food Bank, helping it to distribute food through a statewide network of 21 regional food banks and approximately 1,200 food assistance sites serving all of Oregon.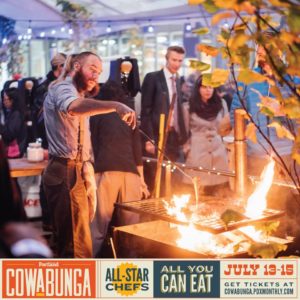 .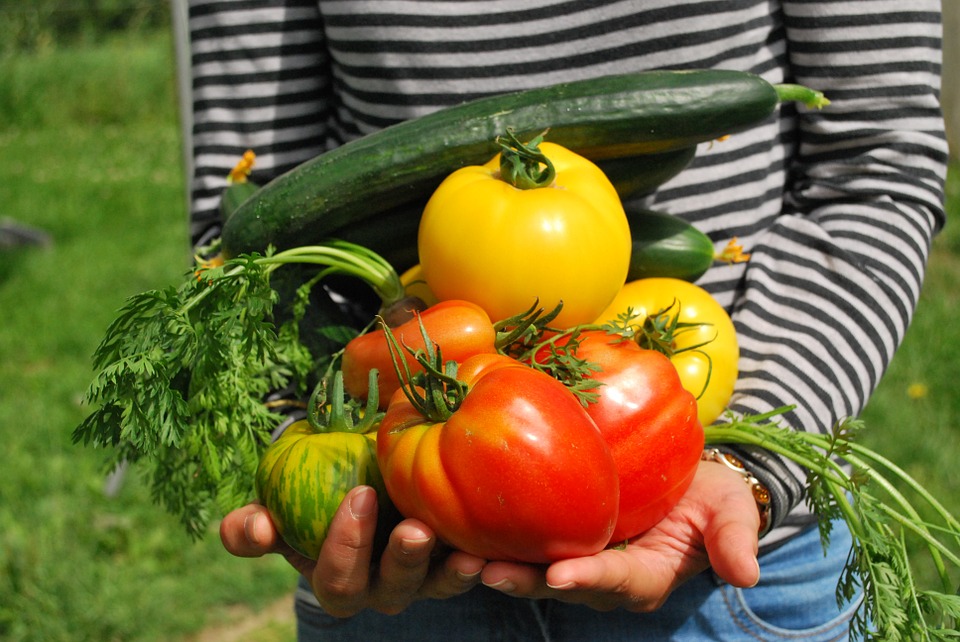 Plant A Garden
Spring is the best time to plant a garden and learn firsthand about our food system and proper nutrition.  It's also a perfect way to make sure you get your 5 servings of vegetables a day.  Is your child a finicky eater? Kids that grow vegetables are more likely to eat them.
Donating the excess produce to a food pantry or soup kitchen helps those struggling to eat nutritious meals, with none of the added sodium and sugars found in canned goods.     Don't know where your local food pantry or soup kitchen is?  See our post on Give From Your Garden listed below.   Need more inspiration?  Read a touching story of a 9 year old girl that started a movement.
Donate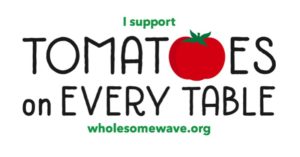 Help Wholesome Wave change the world through food by supporting their Tomatoes on Every Table project.  By giving low income communities affordable access to nutritious food we make those communities healthier and better places to live.
Don't Waste Food

The FoodKeeper mobile app, a collaboration of the USDA, Cornell University and the Food Marketing Institute, helps reduce food waste by providing storage life information for over 400 food and beverage products. It can also be programmed to send you a reminder when something in your fridge is about to spoil.  Easy to use with either swipe gestures or voice control, it helps answer the age old question – "Is this still good?"
Give From Your Garden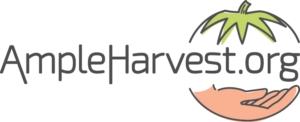 AmpleHarvest.org helps 42 million home & community gardeners end food waste and hunger by educating and enabling them to donate their excess garden produce to one of 7,759 nearby food pantries across America.
Their food pantry locator makes it easy to drop off your extra produce at a local pantry to help those in need.
Make a Food Rescue Run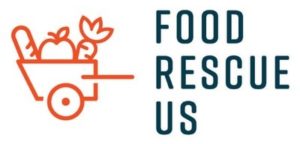 Food Rescue US is committed to ending American food insecurity by directly transferring fresh, usable food that would have been otherwise been thrown away from restaurants, markets and other food industry sources to food-insecure families throughout the U.S.  Download their mobile app, donate an hour to do a food rescue run and make a difference in someone's life.
Share on Social Media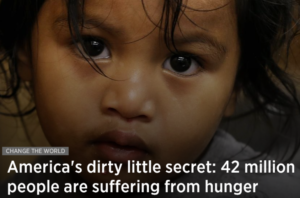 Simply making others aware of the amount of hunger that exists is a great start to ending the problem.  Sharing informative articles, like this one, on social media is a powerful way to get others to realize and react to the issue of hunger.
See A Movie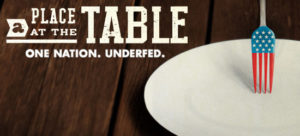 Use your next movie night to learn more about the issue of hunger in America.
A Place at the Table, starring Jeff Bridges, tells the story of three families and their struggle to feed themselves.
Support Your Alma Mater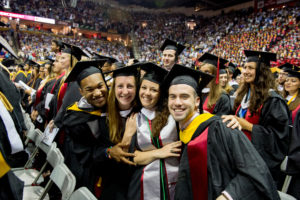 The rising cost of an education, even for those with scholarships, forces some college students to cut back on meals to save money.  Recent reports show nearly 50% of full time college students are food insecure.
Find out if your school now has a food pantry and give back by making a food or monetary donation.
Register for Gifts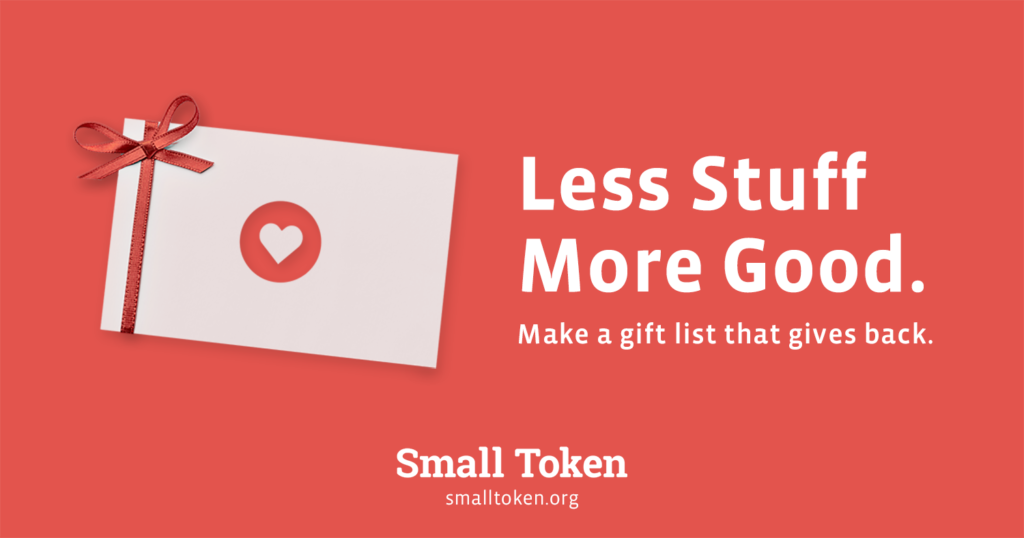 Friends like to give friends gifts, but do you really need more stuff?  If you're passionate about ending hunger, create a Small Token gift registry with your favorite charities and invite friends and family to join you in supporting them.
It's easy, fast and it's free. Small Token doesn't charge any fees other than the credit card processing fees.
Have Breakfast at the Bank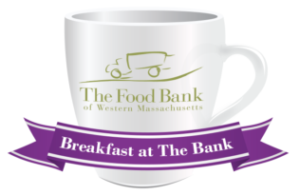 The Food Bank of Western Massachusetts  invites everyone to a unique opportunity to learn about the impact hunger has on their community and what they're doing to prevent it. Join them for an engaging and informative hour, and get an inside peek at one of the most valuable tools in the fight against hunger. A light breakfast will be provided.
Breakfast at The Bank is held on the first Thursday of every month, beginning at 8:30 a.m. The free event is open to everyone 18 and over, but reservations are required. Not from MA? Find out if your local food bank has tours.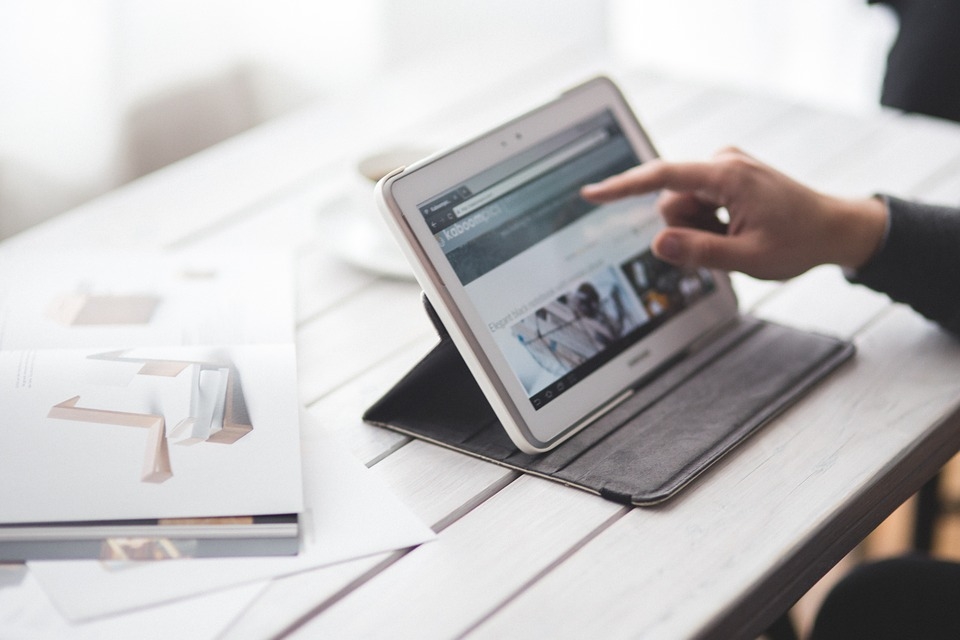 #1 Choose Your Challenge
Pick a challenge that you are comfortable with and that fits your schedule.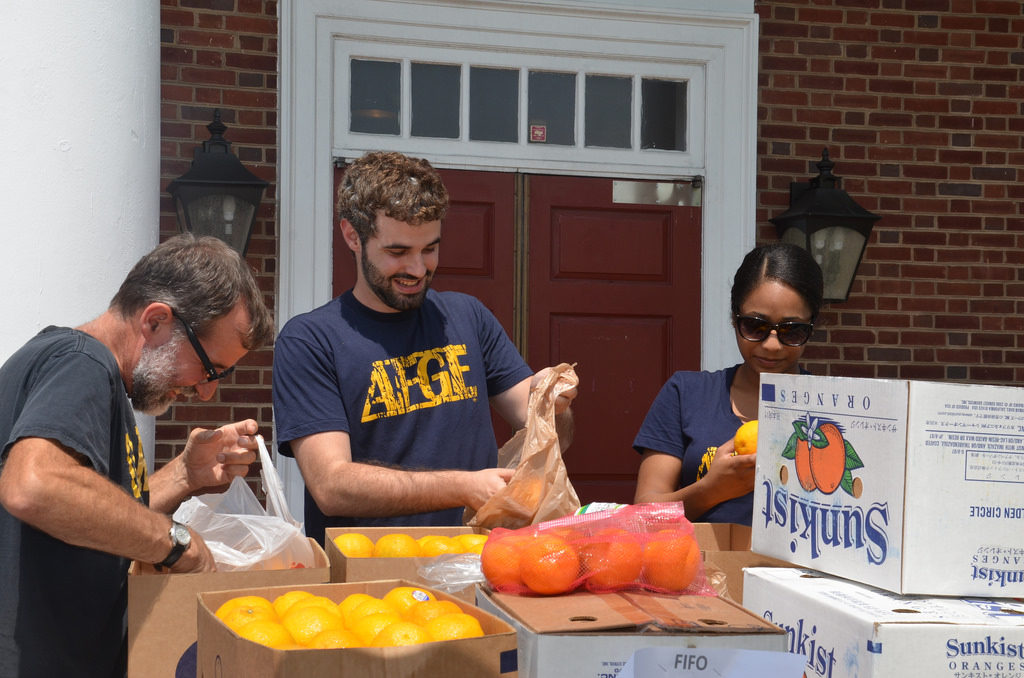 #2 Complete Your Challenge
"90% of life is just showing up."  Whether it's a shift at a food bank or a food rescue run, just do it.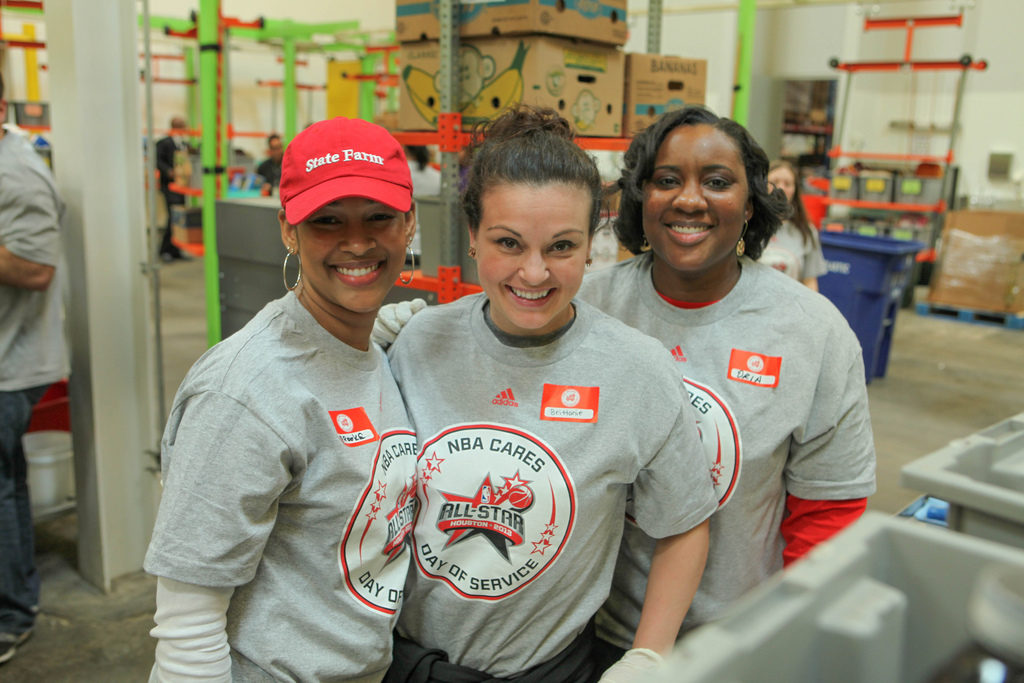 #3 Post it Up!
You've just made a difference.  Take pride in that.  Sharing may just inspire someone else to do the same!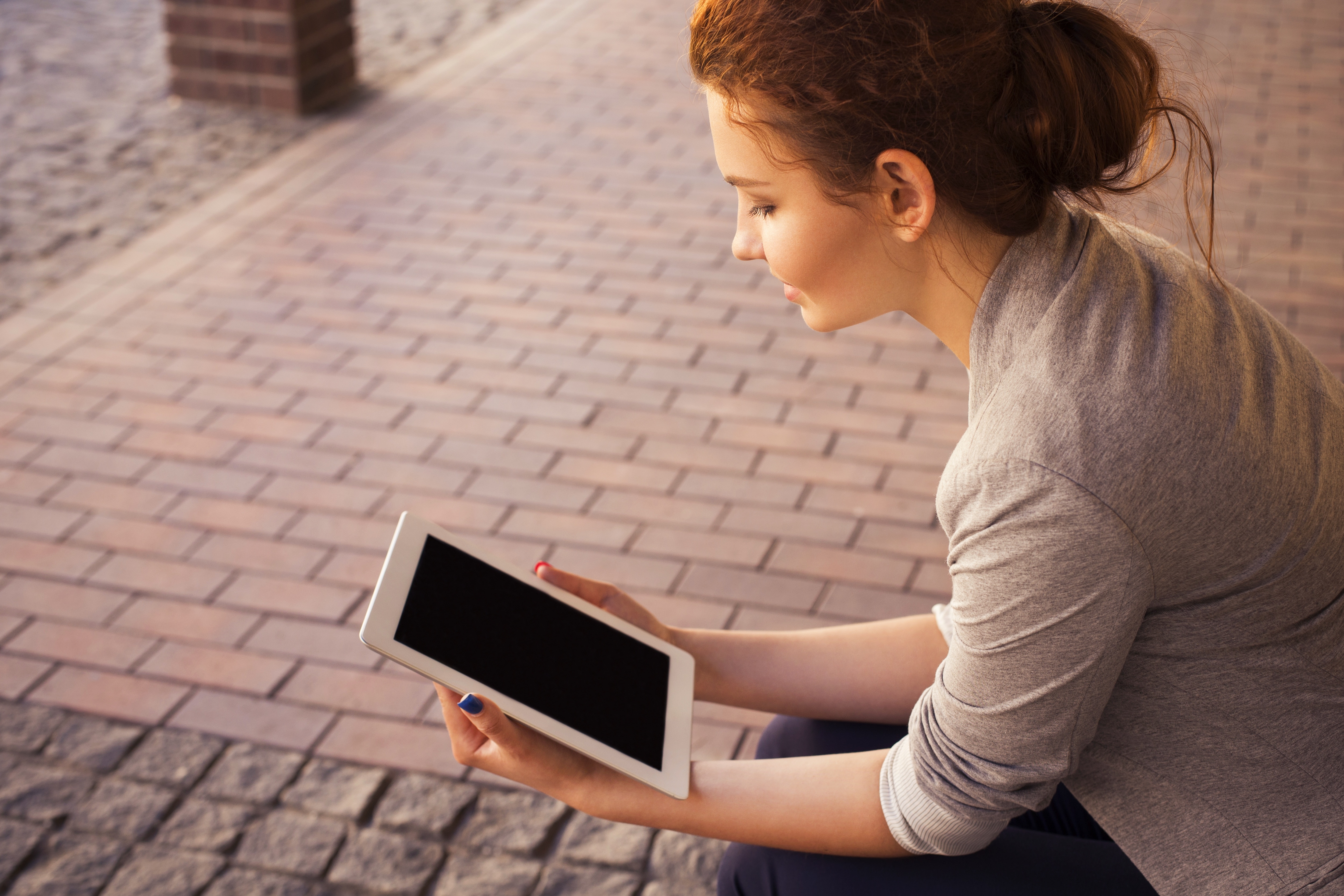 # 4 Keep Checking Back
Each month we'll be adding to our list of challenges.  Some easy and some hard.   How many can you do?