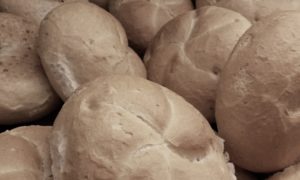 The Challenge
On my way to work last week I got a text from a friend who works at a deli not far from our office. "Supplier delivered three dozen hard rolls we can't use. Any ideas?"
In my work at as Program Coordinator for MAVF, I connect with organizations that glean thousands of pounds of fruits and vegetables at a time – directly from the fields, organizations that can reroute entire truckloads of food headed for the landfill to the nearest food bank within hours, and nationwide organizations that can rescue the leftover food from an entire convention. While I've never personally made a perishable food donation, finding a home for a few dozen hard rolls hardly (pun intended) seemed a challenge.
Enter reality
My plan was simple, pick up the hard rolls and deliver them to a food pantry where they would do the most good. A quick search of the local food pantry guide revealed that of the five in the area, only two were open that day. I left a message in the morning for one, but had difficulty navigating the automated switchboard at the other. A few hours later, not having heard back from the first pantry, I tried the second one again and left a message.
In their defense, food pantries are notoriously understaffed.  Operating mainly by the power of volunteers, with only a few paid staff members, they can be overwhelmed by the demand in the communities they serve. I can't fault them for not immediately responding to my attempt to donate 36 hard rolls.
Beat the Clocks
Unfortunately for me, the clock was ticking. By coincidence, I was working a mobile food pantry distribution that evening and I needed to find the rolls a home before I left for the day.  The simple and timely solution of just bringing the rolls with me to the mobile pantry crossed my mind – but the rules are stringent as what you can distribute and the bags of rolls didn't qualify.
In addition, like any other restaurant or grocery store that has excess perishable food, they have regular hours of operation. My friend's deli serves breakfast and lunch only – and they were going to close soon.
Can I Call a Friend
To be honest, I knew that 36 hard rolls would hardly change the landscape of food insecurity in my community, but by now I was deep into a lesson about food waste and rescue, and dealing first hand with the complexity of donating perishable food.
With time running out, I left a message for a good friend of ours, Kevin Mullins, CEO of Food Rescue US, one of the largest organizations of its kind in the country. Kevin called me back while in between meetings in Phoenix. Their headquarters is near ours, so he knew the local lay of the land and was quick to email me two contacts.  
The Rescue
One of Kevin's contacts I had called earlier in the day, the other was new to me – but on the other side of town. At that point, I was out of time.  I rescued the rolls from the deli before they closed and brought them back to the office where they were split up with a large bag left for the cleaning crew with a note. Although not perfect, we kept 36 hard rolls from the dumpster.
In an interesting coincidence, just a few days before I had tweeted out a Forbes article on food rescue featuring Komal Ahmed of Copia fame. In it she described one of her first food rescue attempts – to give away 500 gourmet sandwiches from her college cafeteria to local food pantries.
"You know 1/3 of them don't answer the phone, 1/3 of them say, 'No we're okay we don't need any more food,' and then the last third are like, 'Actually we could use 15 sandwiches,'" Ahmad said: "Like awesome, now I have 485 sandwiches."
The Solution
As much as 40% of the food produced in this country is wasted by one means or another. It is a heartbreaking number considering that close to 50 million Americans aren't always sure where their next meal is coming from.  While keeping food out of the dumpster may not completely solve the problem of hunger in America, it can certainly help.
But food rescue involves communication and coordination – and there are a number of organizations that do it efficiently and almost effortlessly.  Daily, they rescue thousands of pounds of nutritious, perishable foods from heading to a landfill, delivering them to where they are needed the most – food pantries.
The following is a note from Kevin Mullins, talking about the need, the complexity and the future of food rescue.
---
Robert's story above is at once both very common and not at all so. The common part is how much food we actually have access to and how much of that food ends up in landfills, instead of feeding people. Seven years in, it appears as if I'll never be any less shocked at how much of our food supply gets wasted. We see what we are prepared to see, so as soon as one becomes aware of the reality of American food waste, that's all one will see. It's everywhere, every minute of every day. The uncommon part of Robert's story is that he shows a willingness to slow down long enough to do something about it; presented with an opportunity to right an injustice he chose to take the time to do it.
I used to mostly feel sad when I would say "1 in 7 Americans are unable to provide for themselves or their families the food they need to live healthy lives." Now however, being convinced that American hunger has a shelf life, although we still feel the gravity and weight of all those still in need, we now see the mechanisms necessary for bringing the problem to an end. Volunteer-driver, tech-powered food rescue is one of those mechanisms. If we can re-route even half of the 40% we are currently throwing away to people in need, we will take a huge bite (pun fully intended) out of the problem, leaving hunger staggering on its final legs.
The Food Rescue US platform is all about activating the United States' greatest natural resource and, spoiler alert, it's not the food. It is compassionate, generous Americans who care about their neighbors in need. That's who we are most focused on empowering and calling to action. They are ready and willing, but just need simple access to an uncomplicated solution. Our mobile app does just that, by telling them when and where to show up and where to take the food so that hungry people who live in close proximity can move on to address other obstacles on the hierarchy of needs. So far, thousands of volunteer food rescuers (everyday people like you and me) have done just that.
We also make it simple for every potential food industry source to donate any amount of fresh, usable food surplus they have. Hundreds of restaurants, bakers, grocers, farmers, farmers markets (you get the idea) have been involved in this way.
The most exciting thing is to be a part of a cultural shift in the way we value the food available to us, and more importantly, the way we value our neighbors. Ten years from now it will be unthinkable to waste food, not due to some regulation, but primarily because of a shift in our values about what it looks like to care for each other.  
Kevin Mullins, CEO of Food Rescue US