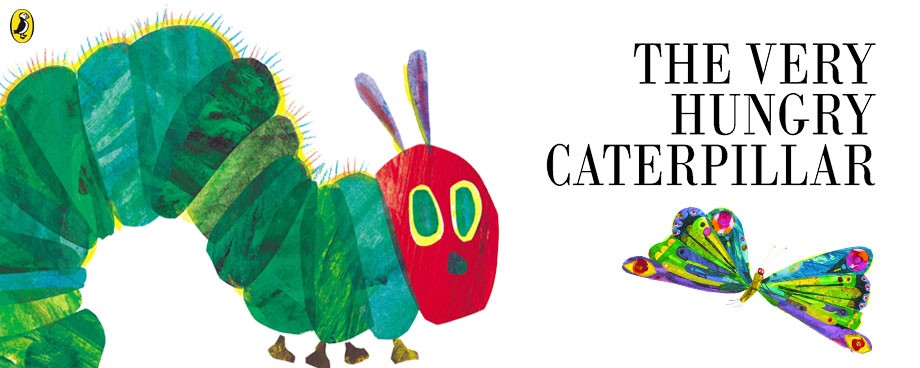 Going to work recently, I noticed a poster hanging by our local theater announcing an upcoming showing of The Very Hungry Caterpillar Show. The memories of reading the book to countless nieces and nephews, brought a smile to my face.
The book, written primarily for preschoolers, tells the story of a newly hatched caterpillar and it's rite of passage into a beautiful adult butterfly. Besides answering the question of where do butterflies come from, the book gives children some lessons in counting (from one to five) and an introduction to some healthy (and not so healthy) foods. For those unfamiliar with the book, this 6 minute video will catch you up very nicely.
Overall, it was an enjoyable reverie to brighten an otherwise boring commute. But when I arrived at the office and began my day, my thoughts of the book went in a different direction.

The caterpillar in the story begins his journey by being hatched on a Sunday. Just being born it is of course very hungry and proceeds to eat an apple on Monday, Still hungry, it eats two pears on Tuesday, three plums on Thursday, four strawberries on Friday and five oranges on Saturday. As adults, we know why the caterpillar is ravenous. It's consuming the vital nutrients needed for its transformation into a beautiful, adult butterfly and by no coincidence all its food choices to this point are healthy.
Later, in an exploration of new foods it will eat an ice cream cone, a chocolate cake, a lollipop and a cupcake. As a result the caterpillar becomes sick, but the condition is temporary and relieved by eating a nice green leaf – an homage to food as medicine no doubt. Recovered, and no longer hungry, the caterpillar builds its cocoon and emerges a short time later as a lovely butterfly.
It's a wonderful story, but as I arrived at my desk I began to imagine a different version of the story, a version based on my work at the foundation. It's a story where a young caterpillar can't find an apple or a pear to eat. It's a story where plums do not come in threes and strawberries are far and few between.
It's story where one in six children in the US don't have access to the vital nutrition to help them grow and develop. It's a story of kids who rely on a free or reduced price school lunch as their only guaranteed meal of the day, and who arrive at school counting the minutes till recess.
This is the story of millions American children. It's a story that isn't read aloud at story time, nor becomes a broadway show. But, it's a real story in which not all caterpillars get to turn into butterflies.
Hunger activist Jeff Bridges, founder of the End Hunger Network, states "35 million people in the U.S. are hungry or don't know where their next meal is coming from, and 13 million of them are children. It's about patriotism really. If another country were doing this to our children, we'd be at war – and it doesn't have to be that way."
The price of childhood hunger is high, not only for the child, but for the community where they live. Per The Food Research and Action Center, "Children who do not eat breakfast at home or at school were less able to learn. Hunger can lead to lower math scores, attention problems, and behavior, emotional, and academic problems. Furthermore, studies show that children who are consistently or often hungry are more likely to repeat a grade."
In addition to the physical effects, children who face hunger may feel ashamed and isolated by the stigma associated with their lack of food, which can lead to anxiety and depression according to the American Psychological Association.
Things you can do to fight child hunger in your community
Read to your child "The Very Hungry Caterpillar" and ask the "what if " questions about lack of food.
Gather your family for a viewing of the documentary "A Place At the Table" to get a better understanding of food insecurity across the nation.
Contact your school to find and support programs that help students struggling with food insecurity. Some communities have a weekend backpack campaigns to provide students with meals over the weekends and always need volunteers
Support children across your community. After hearing from a teacher that some students didn't eat from Friday school lunch til Monday school breakfast, Claire Bloom started the New Hampshire non-profit End 68 Hours of Hunger. National organizations like No Kid Hungry and the End Hunger Network advocate for better school lunch and breakfast programs and are always in need of funding support.
Donate to your local food bank or food pantry.
Our children are the most precious resource we have – each deserving of the chance to reach their full potential.
For further reading:
CDC Report:  Health and Academic Achievement